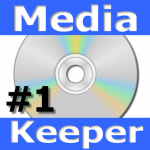 MediaKeeper Version 3.0.1
Media and Storage Management
Outline
Management for Storage (Blu-ray/DVD Recorder) and the Media (Blu-ray, DVD, VHS etc.).
Possible to tag it division of the genre of the program.
Media can be retrieved according to media number/media type etc.
The inventory location of media can be managed.
Possible in the program to put up watched title, tag, and sign and memo of each times of broadcasting.
Recording for today can be quickly registered by todays broadcasting list function. (It is possible also the day before the next day)
In setting the recorder to the program , always recorded can be easily registered.
Possible to manage an animation file and a general file.
Use scene
When the recording program is recorded in which media or it is not possible to recall it
When you want to confirm contents in media
When you want to confirm the inventory location of media
When you want to confirm broadcasting the recording schedule today
and more…
What is a Media Delete
There is no delete function of registered media as a specification of this App.
When registered media break, another media are allocated to the media number.
When another media do not exist, the sign is put as understood from the dead number the media number.
The name of media is made "Dead number".
"Unused" etc. are added and allocated in the media type.
etc.
The reason for this specification, though the media number is leaving watched when media are added、"Without fail..ream..watch. It is easy for the person to use it."
For instance, when media of entering by ten pieces are bought and registered
It is easy which to be used ?
#1,#4,#6,#7,#30,#31,#46,#47,#48,#49
or
#46,#47,#48,#49,#50,#51,#52,#53,#54,#55
Though it is technically possible to watch the departure while looking for the number that became a missing number. However, it is felt that it is not easy to use it when actually using it.
Price
Notes
The reservation of recording and the recording equipment cannot be controlled from this App.
Download


MediaKeeper Version 3.0.1